Portable Appliance Testing machines can be very expensive but with the right research you can certainly choose the best machine for you.
There are many factors that needs to be taken into consideration when purchasing a Portable appliance testing machine.
These are as follows –
Is the machine lightweight?

Does the machine have good communication between the tester and the PC?

Is the machine bluetooth?

Is the machine bulky?

How easy is the machine to use?

Is the PAT Testing machine user friendly?

Can the Portable Appliance Testing machine operate without a lead?

How long does the charge in the PAT Testing machine last for?

How many items can be stored in the machine at any one time before downloading?

Is the screen in colour or black?

What style of keyboard does it have?

Is the 110v plug easy to access?
As you may be aware there a lot of companies out there that sell these machines to the members of the public and contractors.
Lets go through the list of companies who make these Testing machines.
You have First Stop Safety, Fluke, Kewtech, Meggar, Metrel, Martindale, Robin, Seaward and Transmille. Each make have their advantages and disadvantages.
At 250Rio we use the latest Seaward products. We like using their equipment because of their modern feel and their ease of use.
Our engineers use the Seaward Europa Plus testing machine for the office environment and industrial use if you have the right attachments. The tester is very lightweight. Storage is also good, the machine has a memory of 5000 items.
If you need more power then we also have Seaward Supernova's available this can be used for all industrial equipment as well as Office equipment.
One of the main problems with these machines is the constant overheating. If our engineers used the machines continuously then the machine would stop working and display one of the many internal relay faults. The solution to this would be to stop using the machine and until the machine cools down. 
As a company we are always looking for ways to improve our testing, and are looking forward to purchasing the new Seward Apollo 600 very soon. The key features for purchasing this machine are as follows.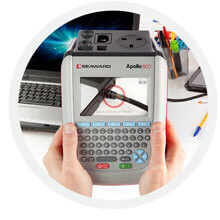 The new apollo 600 has storage for 50,000 items.

The new keyboard is revolutionary and is easy to use.

The machine has a digital camera which helps to attach photographic evidence against each asset.

Only weighs 1.5kg

Bluetooth and USB connectivity.

You can use with or without a mains power lead.

The machine always stays cool and does not overheat.
What will your next PAT Testing Machine be?